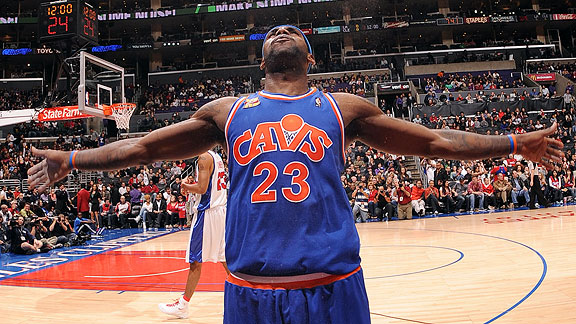 Just checking up on some facebook action and came across a great link on Bill Simmon's Levels of Losing (Cleveland has two teams in the top 5). This reminded me the CAVS are playing the Knicks tonight in Cleveland... and reminded me how great Bill Simmons writing and humor is. His latest Story is a must read, focusing on LeBron and titled "We Are All Witnesses".
Oh yea... and Bill Simmons also showed me the beauty of YouTube... and their archive of sports
highlights / low-lights!!!
Here's a quick quote... click on the title of the post to visit the article.
LeBron is the greatest natural athlete in NBA history. Has to be. Karl Malone's height, weight and muscles, only if you gave him the Jordan/Erving/Thompson DNA strain, Magic's passing eye and Bo Jackson's breathtaking combination of power and finesse.